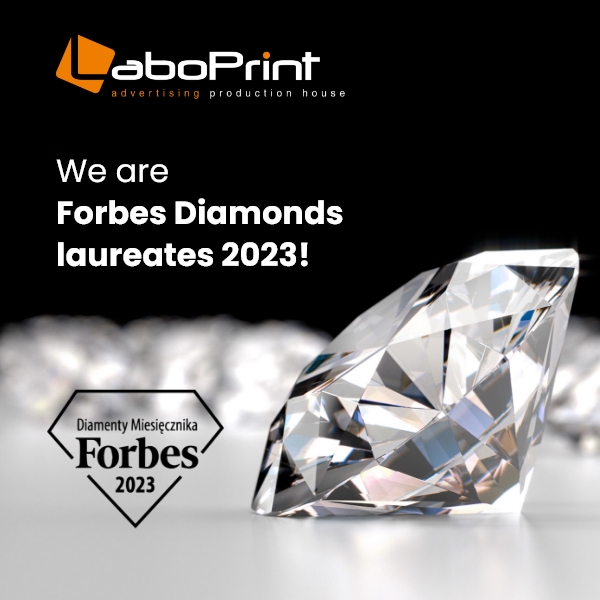 We are pleased to announce that, for the 7th consecutive year, we have been shortlisted for the "Forbes Diamonds".
We are among the companies that have recorded the highest growth in the last 3 years. Not only was the financial performance assessed, but also: the value of assets, history, credibility of payments, absence of negative legal events, employees potential and know-how. This Swiss method makes it possible to identify stable, trustworthy brands that stand out for their extraordinary potential and actively respond to customers' needs.
link to file: Labo Print. Jesteśmy kompleksowi i niezawodni – Biznes – Forbes.pl
Labo Print. We are comprehensive and never fail
Labo Print President Krzysztof Fryc and Vice President Wiesław Niedzielski discuss development of an innovative brand in the era of progressing print technology digitalisation and ways to invest in hard times
FORBES: What makes Labo Print stand out from among the competition?
Labo Print Vice President Wiesław Niedzielski: I want to say… Everything. Our company has grown considerably over the past decade-plus. We started with a single simple machine. Today, we have the most cutting edge machine park in Poland in two production facilities. We have close to 500 employees. In 2012, our revenue was PLN 16 million. Just a decade later, it rose to over PLN 153 million. We turned from a large format printing company into a capital group, which provides advertising solutions internationally for pretty much every industry. We offer a wide range of products and services, from product labels through 3D letters, light boxes, backlit frames, cardboard packaging, or stands and displays (POS) to printed paper cups, advertising accessories, and exhibition and display stands. Our unique original sales model combines a traditional commercial approach with innovative e-commerce solutions. This is another aspect of our offer and sales activity, which helps us stand out. In response to your question, I will refer to the most frequent opinions of our customers: You are comprehensive and never fail. I think that these attributes – combined with the holistic approach to the business of our customers – give us a considerable advantage and have helped us lay out new directions in the industry over the past few years.
You are dynamically growing. How?
Labo Print President Krzysztof Fryc: Investments, investments, investments. We have been investing in world class equipment for years and marketing top quality products for our customers. The major growth dynamics are produced mainly by the tremendous determination and consistency in our drive to accomplish our – always ambitious – goals in such a volatile business environment.
Are you not afraid to invest big money in such a difficult environment?
K.F.: In the past few years, we have been investing over a dozen PLN annually. This is the best way to grow the company's value in the eyes of investors and to "run away". There are always some concerns, but we calculate the risk and our investments are prudent. Right now we are in the process of completing a warehouse and production complex, which will help us optimise our logistics and ensure several thousand extra metres of production space. Expansion of the facility in Poznań is one of the stages, which we want to gradually scale with consideration of macro and micro economic factors. We also need to make a decision concerning purchase of new technology, which – as it complements the current offer – can raise the company's current trade considerably and allow for greater margins, which will go towards future investments. We are also launching a new version of our original production management system, which is currently being "tailor made". We also want to implement more management standards and undergo external certification to improve our production and management processes even more and take the entire Group to the next level of maturity and professionalism.
Who is your offer targeted to?
W.N.: Mainly to entities in the market for comprehensive indoor solutions like shopping centres or retail chains and outdoor solutions like festivals, concerts, sports events, etc. Our product and service portfolio continues to grow from year to year, which also expands the range of our potential consumers. At present time, it would be hard to find industries or professional sectors deprived of our offer. Price tags are an excellent example. They are extremely common and popular. Thanks to our production and sales model – which is the only one of its kind in Europe – we were able to handle 70 thousand orders in 2022 alone and often completed them within three days of placement. And we also need to remember our final professional customers, who take advantage of our services in appreciation of the dedicated consultants, and the graphics and construction departments, which provide professional support at every stage. Last year, we delivered solutions to thousands of customers. Our print quantity is measured in millions of square metres annually. We fulfil orders based on almost 2000 graphic files provided by customers on a daily basis.
What is the secret of the LabelExpress brand phenomenon?
K.F.: This project is the only one of its kind in Poland and one of just a handful throughout Europe. You can choose the size, quantity, and material and get everything within three days. Our brand's sticker labels are a common product. It's hard to imagine a product without an information or marketing label. The labelling industry was doing quite well, but there was a considerable restriction – time. The waiting times for label orders on the market could reach as high as two weeks. What we did removed this restriction. Removing restrictions is the biggest value for users in business and in life. We introduced a revolutionary three-day label production offer – 24-hour for certain materials – and deliver the product several times faster than our competition.
What do you intend to do to keep up this pace of development?
W.N.: More and more segments of print are being digitalised. Due to our competences, we can and want to be involved in this process and provide more added value for users. We have no intention of slowing down – with consideration of common sense and cool calculation. Our plans are bold, we establish directions of development, but we are also observing global markets, listening to our customers. Because of this, we know how to select successive segments of operations prudently and try to avoid the obstacles and risks in our way. At this point, we should also note the good of the team. An organisation as big as ours would have never been able to grow so efficiently without appropriate associates.
Interview conducted by Magdalena Gryn