Durst TAU RSC-E
The first state-of-the-art printing machine in Poland
using Inkjet UV technology with 1200 dpi resolution
Our digital printing house offers printing of labels on a modern Durst TAU RSC-E machine, using Inkjet UV 1200 dpi technology. High resolution allows for smooth transitions between colors and perfect reproduction of details. Thanks to advanced technology and printing with a small drop of ink (2pl), we provide labels of excellent quality.
We can print labels with variable data for you: numbering, unique barcodes or QR codes. The variable numbering can even be placed in several different places on the label and contain many different data ranges.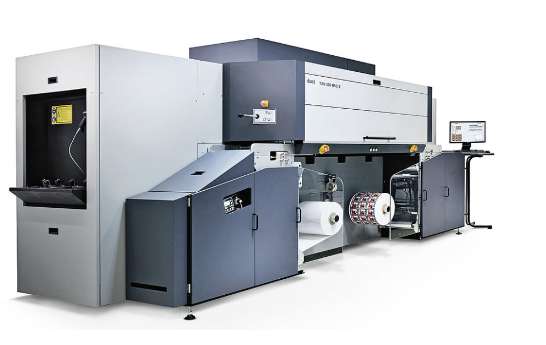 1200 dpi
Materials available
Paper semi-gloss
Paper labels are one of the most frequently chosen options. Intended for application on the surface made of cardboard, bottles. Paper labels are not appropriate for products which have contact with moisture, detergents, or mechanical damage.
PP foil (polypropylene)
Foil labels have a much greater durability compared to paper labels. Their surface is resistant to water, grease, chemicals, and has increased resistance to mechanical damage. This material is intended for flat surfaces, rigid packaging, frozen products, plastic containers.
PET film (polyester)
PET foil labels are dedicated for special tasks ;-) They have a much greater resistance to mechanical damage compared to foil labels. Their surface is resistant to chemicals and external weather conditions. PET foil labels are used where durability is the most important aspect, e.g. marking containers, barrels with chemicals.
Materials ECO
Eco paper and eco foil are materials that are becoming more and more popular. The eco paper contains recycled paper fibers, and the eco foil is made from wood pulp, which comes from sustainable and renewable crops.
Self-adhesive label printing house
The label is a kind of showcase of the product. All the necessary and essential elements are placed on it. A product placed on a store shelf should be presentable, arouse interest and catch the attention. Label contains information such as: logo, product name, product composition, product origin, importer and manufacturer's address, necessary codes.
In our printing house you can place an order for labels from 500 pieces. We also have attractive lead times, we send the ready order after three days. Cooperating with us, you do not have to plan your orders in well advance. We offer the possibility of making short series, compared to other technologies. It means that you wouldn't have thousands of rolls with labels left in your warehouse, which will never be useful again.
Online label calculator
On our website LabelExpress.eu you will find an online label calculator and additional information about available materials and refinements in our offer. Our online calculator gives the possibility to choose: material, size, shape, number of pieces, refinements, orientation on the cardboard tube, perforation. If you need an offer for parameters that are not included in the online calculator, please contact our sales department.
We offer a wide range of materials and refinements. We carry out orders for paper, foil and PET labels, each of the materials is available with different variants of glue. Additionally, each of the materials can be laminated or varnished- it significantly extends the durability of the label. A novelty in our offer are 3d and 3d max refinements. It is an addiitional layer of selective varnish on the surface of the label, causing raise of the details. This solution gives a spectacular visual and sensory effect.
We encourage you to get to know a wide range of products on the website LabelExpress.eu. You will find there detailed information about each of the materials, adhesives and refinements. On our website, you can also easily calculate the price of the labels you are interested in and contact the sales department, who will help you choose the right material and advise you on the best solution for you.
Specify the size and shape

Provide the number of labels

Choose the material