Blackback
Black back banner
| | |
| --- | --- |
| Intended use | indoor advertising, wall graphics |
| Grammage | 250 g/m² |
| Printing technology | Sublimation |
| Print resolution | 1200 dpi |
| Maximum material width | 3,20 m |
| Material attestation | B1 |
| Finish of material | cut to size, sewn in reinforcing tape + eyelets, stitched edges |
| Properties | 100% PES, blocks light |
HOW TO PREPARE A FILE
Finishes available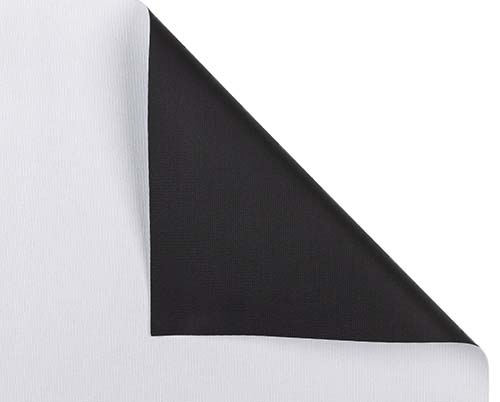 Cut to size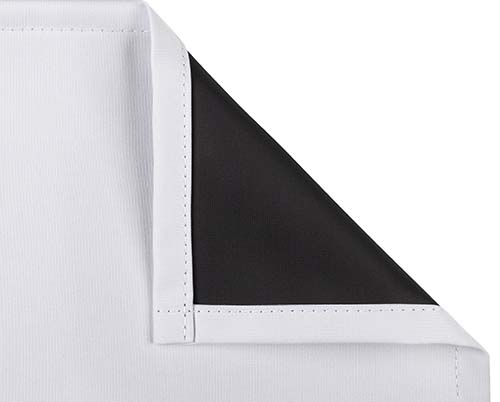 Stitched edges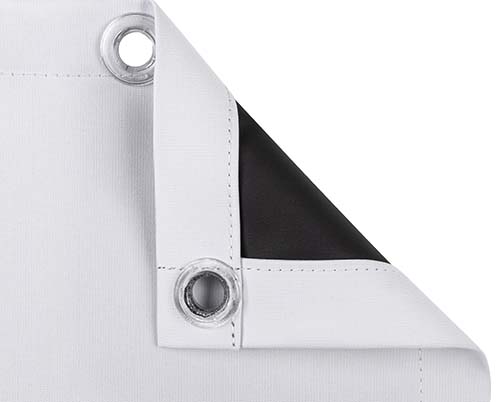 Sewn in reinforcing tape + eyelets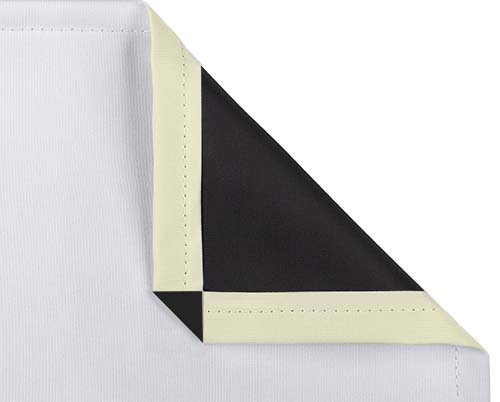 Silicon strip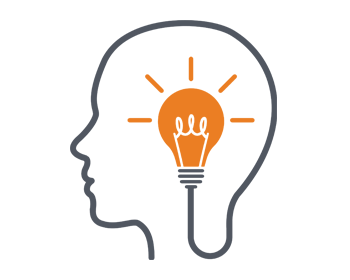 Custom
Black Back Banner Pro is a polyester fabric, it is resilient and does not crease. The fabric can be printed with personalised graphics using sublimation technology. Thanks to sublimation, the colours penetrate into the layers of the fabric and gain in durability. Blackback 250 g/m² is a fabric that has a black separator on the back side to block out light. It is often used as a material for unstructured structures, in which case the framing elements are not visible.
Black Back Banner Polyester printing and marketing media
Black Back Banner meets safety standards for flame retardancy and is B1 certified, often required for trade fairs or events. We print on polyester at a resolution of 1200 dpi. Graphics with advertising look attractive, have saturated colours and small details can be seen. Building a positive image of your company starts with a well-thought-out marketing message and the selection of the right medium for this message.
The print on Black Back Banner polyester can contain an image, text, logo, commercial message but also an element of graphic interior design. Before designing, it is important to plan the positioning of individual elements so that they are not outside the safe area (i.e. not in areas where the fabric will be sewn or otherwise finished).
We often use prints on Black Back polyester on a fair walls or stand construction made from ZEN frames. We also use a solution where two prints made on Blackback polyester are combined, which gives the possibility of placing two completely different graphics on each side.
Printing on Black Back Banner – interior use and finishes
Black Back Banner is used primarily indoors. It is an excellent material for prints mounted on exhibition stands. The dark back of the material provides excellent separation, so you cannot see what is on the other side.
Blackback can be finished in any way the customer wishes: cut to size, hemmed, sewing, placing eyelets. There is a possibility of adjusting the individual way of finishing to the customer's needs. Please feel free to contact us.